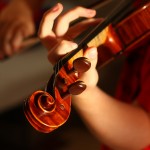 EVYS will begin rehearsing on Mondays for the 2016-2017 season.  Concert and Chamber Orchestras will meet from 4:30 to 6:00 pm and Symphony from 6:15 to 8:15 pm.
To request an audition, please click the Auditions and Absence Requests from the menu or the "Play with Us" box above and select "Audition Request."  You can find audition requirements under the Info tab.
We are looking forward to a fabulous 2016-2017 season!  In the meantime, enjoy the summer break!
What's your reaction?
0
none