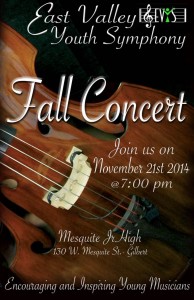 Just a reminder that our EVYS Concert will be tomorrow, November 21st at 7:00 pm at Mesquite Jr. High School.  The conductors and musicians have been working very hard all semester, and they are excited to share this beautiful music.
Call times for the musicians are as follows:
Concert Orchestra:  6:30 (sitting in seats) in the Band Room
Chamber Orchestra: 6:30 in the Orchestra Room
Symphony Orchestra: 6:45 pm in the Band Room
Please make sure your musician has all the required concert attire.  (Refer to your handbook)  Notes went home at our dress check indicating if a  musician was lacking something.  Remember the skirts/dresses must be long, black, and ankle-length.  Don't forget the closed-toe shoes and black nylons.  Boys don't forget the black bow tie, shoes, socks, and belt.
The following items will be available for purchase:
Flowers $3
Candy  $3
Car Decals (now in white and green)  $6
Luggage Tags (new smaller size)   $3
Concert DVDs will also be available to order at the concert and will be mailed to purchasers.
New this Concert:  We will also be having a Conductors' Reception after the concert, so please plan to join the Conductors for some refreshments in the courtyard.  There will be a silent auction for Thanksgiving Flower Arrangements at the reception as well.
We look forward to a wonderful concert tomorrow night.  Thank you for supporting these wonderful musicians!
What's your reaction?
0
none