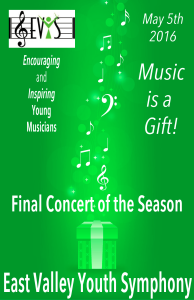 Next Thursday, May 5th is our third and final concert of the 10th Anniversary season and it is scheduled for 6:00pm at the Higley Center for the Performing Arts.   (This Thursday, April 28th is a regular rehearsal with normal start times of 4:30pm for Concert/Chamber and 6:15pm for Symphony.)
Several issues contributed to the change in the concert start time and we appreciate your flexibility with the change. A good number of our musicians have a school concert scheduled the same evening, so changing the time will allow them to play in both concerts.  And because Thursday is a school night, we wanted to make every effort to avoid a late evening, but still enjoy the traditional reception following our concert.  And for this event, it is our Concert Orchestra's parents turn to bring a food item for the reception.
Below please find the call times and other specific directions for each orchestra for our Final Concert:
Concert and Chamber Orchestras
Please arrive to Higley High School on Thursday, May 5th at the normal rehearsal time of 4:30pm.  Rehearsal will last from 4:30-5:30pm and then pizza will be provided afterwards.  Students may come to rehearsal already dressed for the concert, or they may change after eating dinner.  The concert starts at 6:00pm.
Symphony Orchestra
Your call time for rehearsal is Thursday, May 5th at 5:00pm.  Pizza will be available at 4:45pm if you wish to come early for dinner.  You will rehearse from 5:00-5:50pm, and then you will come into the concert hall to listen to the other two groups, beginning at 6:00pm.
Look what's available the night of the concert!
Please bring cash, as we are unable to accept credit cards.
Raffle Item:
4 Disneyland one-day park hopper passes!
$5 per ticket, or $20 for 5 tickets
Celebrate Disney's 60th Anniversary!

Silent Auction items:
2 Ticket Vouchers for the Phoenix Symphony 2016-2017 season
AZ Cardinals Cap and T-shirt
5 Family passes to "As You Wish Pottery" Painting Place
Video Recording at the Concert
In order for all audience members to enjoy the concert without interference from individual phones, cameras and iPads, we respectfully ask that parents not record the concert. We encourage you to watch the performance LIVE, and really enjoy the moment. Thank you for your understanding.  The concert will be recorded and DVD's will be available for purchase in the lobby. $20 for the first DVD and $10 for each additional copy – so you can buy an extra for your out-of-town relatives and friends.        Cash or check only.  20% of the proceeds go directly to support EVYS!
We are looking forward to this final concert!  It promises to be a great night of music, awards and prizes!
EVYS Board of Directors
What's your reaction?
0
none