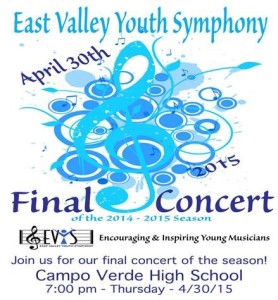 We would like to invite you to our Final 2014-2015 Season Concert !
Thursday – April 30th at 7 pm at Campo Verde High School.
Remember there will be opportunities to:
Order a video of the performance!  Great memories and a way to share the evening with family and friends.
Purchase flowers to congratulate musicians on a fantastic season. (They love flowers!)
Buy Symphony candy bars – for yourself or a musician!  (We all love chocolate!)
Purchase instrument tags and car decals.  Car decals also look great on computers!  And instrument tags work great for luggage tags too!
AND … don't forget … we are holding the raffle for a package of four Disneyland 1-day Park Hopper Passes ($600 value). $10/raffle ticket or $50 for 6 raffle tickets.  You can purchase the raffle tickets at the concert or here online!
(Please note we are only able to accept cash.)
And plan join us for a reception after the performance to celebrate the  2014-2015 season!
We look forward to sharing the evening with you!
Campo Verde High School
3870 S Quartz St,   Gilbert, AZ 85297
What's your reaction?
0
none