Please remember EVYS rehearsal is at Mesquite Junior High School this Thursday, November 20th.   This is the same location where the Concert will be held.  Concert Orchestra will start their rehearsal in the Band room (same building as the auditorium) at the normal time.  Rehearsals for Chamber Orchestra and Symphony Orchestra will start in the Auditorium at the normal times.  Musicians do not wear their concert attire for this rehearsal.  Please see the address and map below:
Address: 130 W Mesquite St, Gilbert, AZ 85233
Location: Gilbert Road – between Elliot and Warner
At the intersection of Gilbert Rd. and Warner go north on Gilbert Road.
Turn west on Mesquite Street and go directly to the school.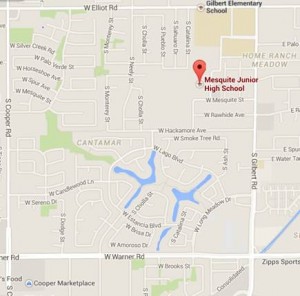 What's your reaction?
0
none